I understand that driving a 50cc or 125cc scooter can be fun, but it can also be uncomfortable for long trips or larger riders. During my time on the road, I've met many riders who share this sentiment.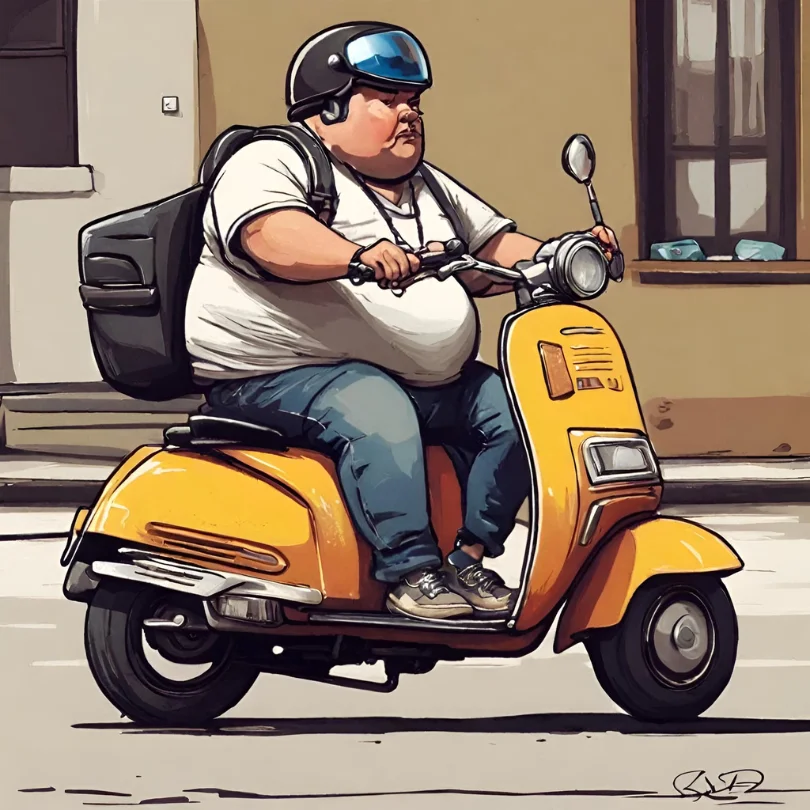 However, I want to clarify that I don't mean to offend smaller displacement scooter owners. My point is, if you are looking for a more powerful and comfortable ride, the Storm 150XH is an excellent choice. It is considered one of the best 150cc scooters in the USA in terms of performance and safety. It can serve as your first real motorcycle or your primary commuting scooter, and it's a great investment for any rider looking for a smooth and safe ride.
Storm 150XH Features
1. Cutting-edge 150cc Water-cooled Engine
Storm 150XH uses the engine provided by Loncin, a BMW partner. The engine can output 14+ HP and this is pretty rare among 150cc scooters; besides that, 107 MPG fuel efficiency makes the scooter super fuel-friendly. The KS150 engine has some significant advantages you don't want to miss!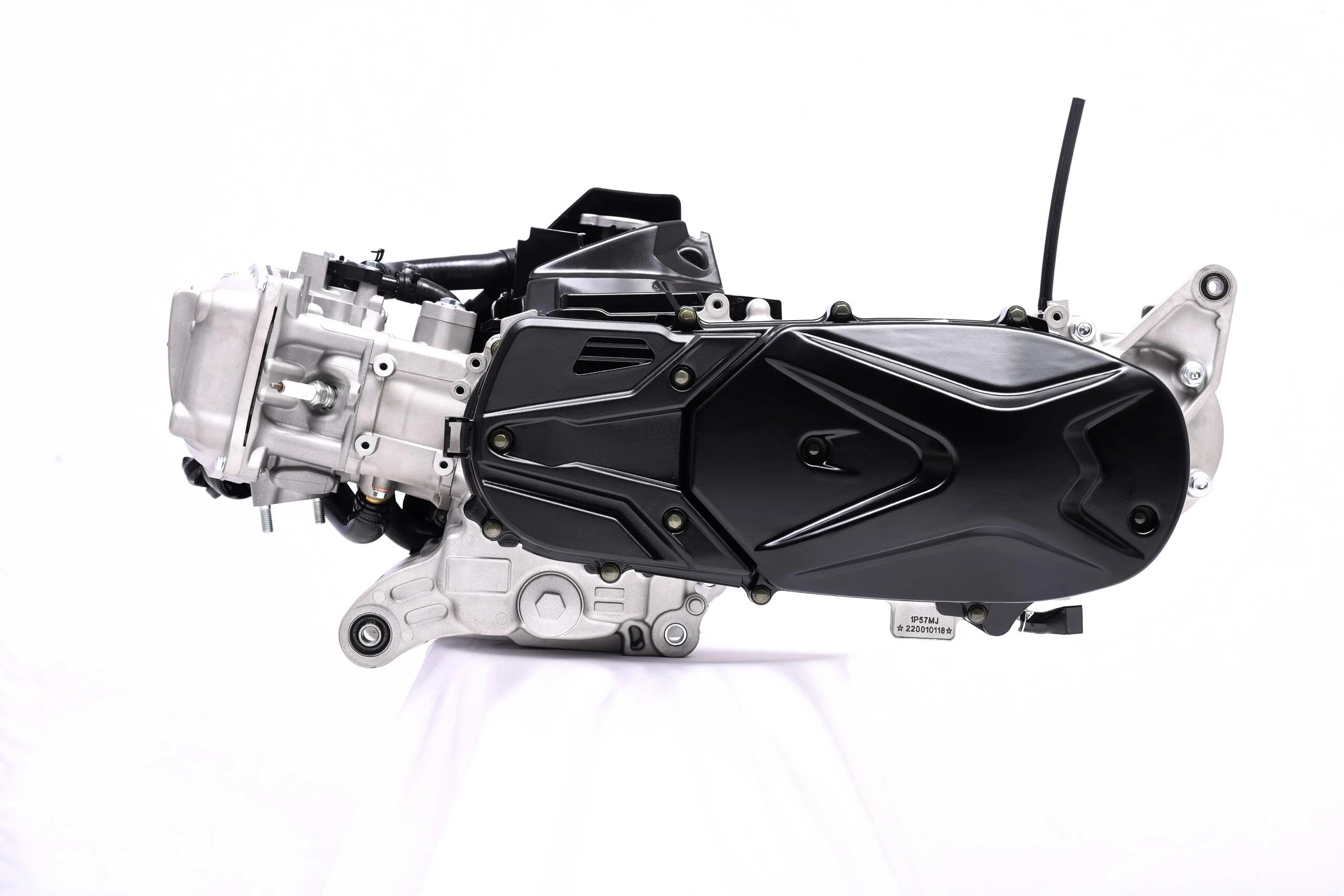 1.) Integral cylinder head: Less power loss due to friction, higher performance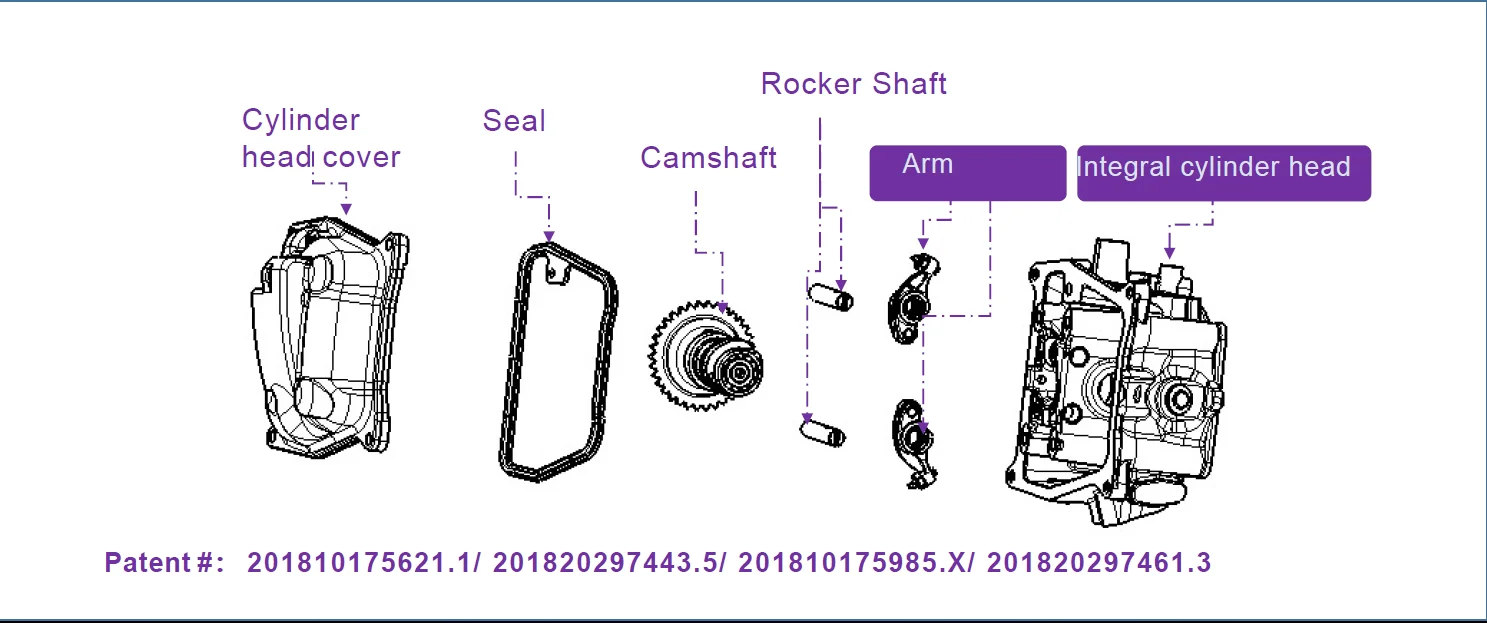 2.) Double-sided toothed belt: High transmission efficiency and power

3.) Silent Start: The controller works with the magneto, enabling the silent start of the engine; with the camshaft with a pressure-reducing valve, the engine is easier to start. (no more scooter is too noisy complaints from your neighbor, lol)

4.) Water cooling system integration technology: The integrated design of the radiator is on the right side of the crankcase, which shortens the cooling water path and makes the scooter more compact, whereas if you have a front-mounted radiator, you've got a lot of piping and areas for leaks and things like this.

OK, I will stop throwing terminology like a nerd, but there are other interesting features of this engine that make the Storm 150cc the best adult gas-powered scooter in the USA.
2. Built-In Fast Charging Ports
Have you ever experienced the disappointment of a dying phone during a ride? It can really put a damper on things. But with the Storm 150XH gas-powered scooter, you don't have to worry about that. The scooter comes equipped with fast charging ports that are even faster than your Apple fast charger. Not only that, but the Type A and Type C fast charging ports are unique features that add a lot of value. I haven't seen other 150cc scooters with these capabilities, as they usually just come with standard Type-A ports.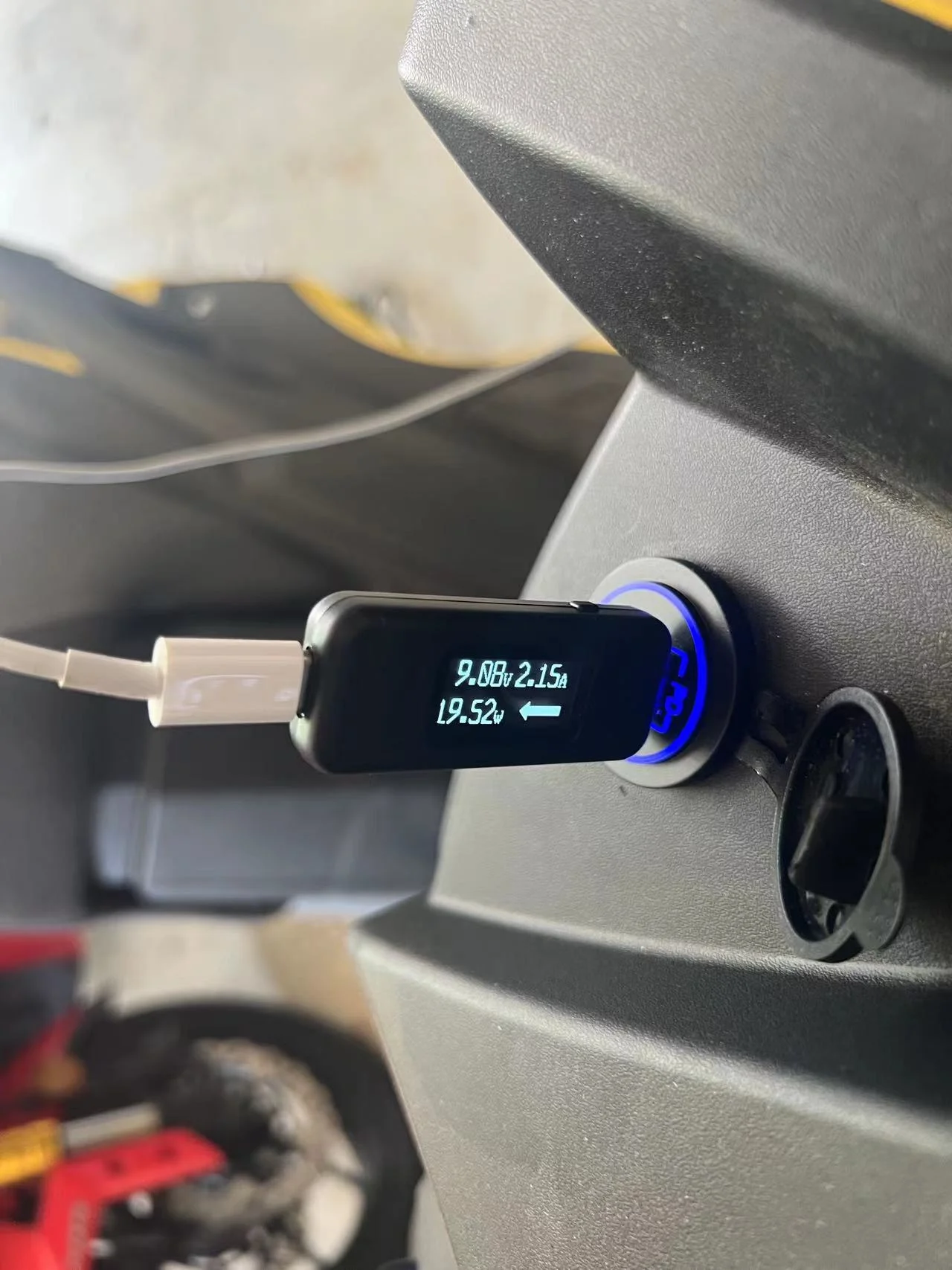 3. Double-channel front and Rear ABS
The ABS (anti-lock braking system) is a safety feature that prevents the wheels from locking up during harsh braking conditions. In an emergency stop, the ABS helps maintain control of the vehicle and avoid skidding. The picture below shows the difference between braking with ABS and without ABS: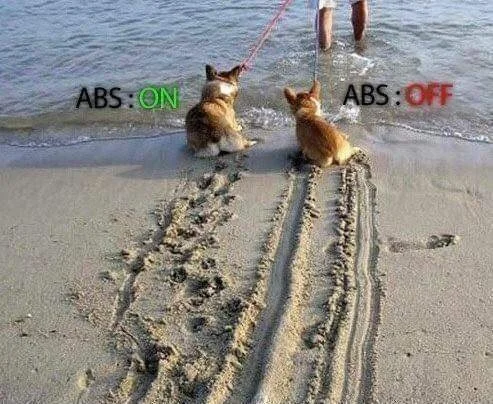 In the world of 150cc scooters, the ABS is not very common. However, the Storm 150XH is equipped with both front and rear ABS, a rare feature in this class. It can help when you need to stop quickly, especially on slippery roads. Even the Honda PCX, a popular 150cc scooter, only has front ABS. It is the major reason why I recommend the Storm 150XH as your first motorcycle.
4. Ultra big fuel tank
How many gallons does a 150cc scooter hold?
Interestingly, most 150cc scooters can only hold up to 1-2 gallons of gas. However, the Storm 150XH is unique in that it can hold up to 3.7 gallons of gas. This means you can go on long rides without worrying about refilling your gas tank. You can easily ride for at least 300 miles before filling up again. While for a normal 150cc scooter, the estimated range is around 130-150 miles.
5. BOSCH ECU
For an EFI scooter, the ECU quality is critical, and we use the BOSCH brand to ensure you a stable and fuel-efficient performance.
6. General Specifications for Storm 150XH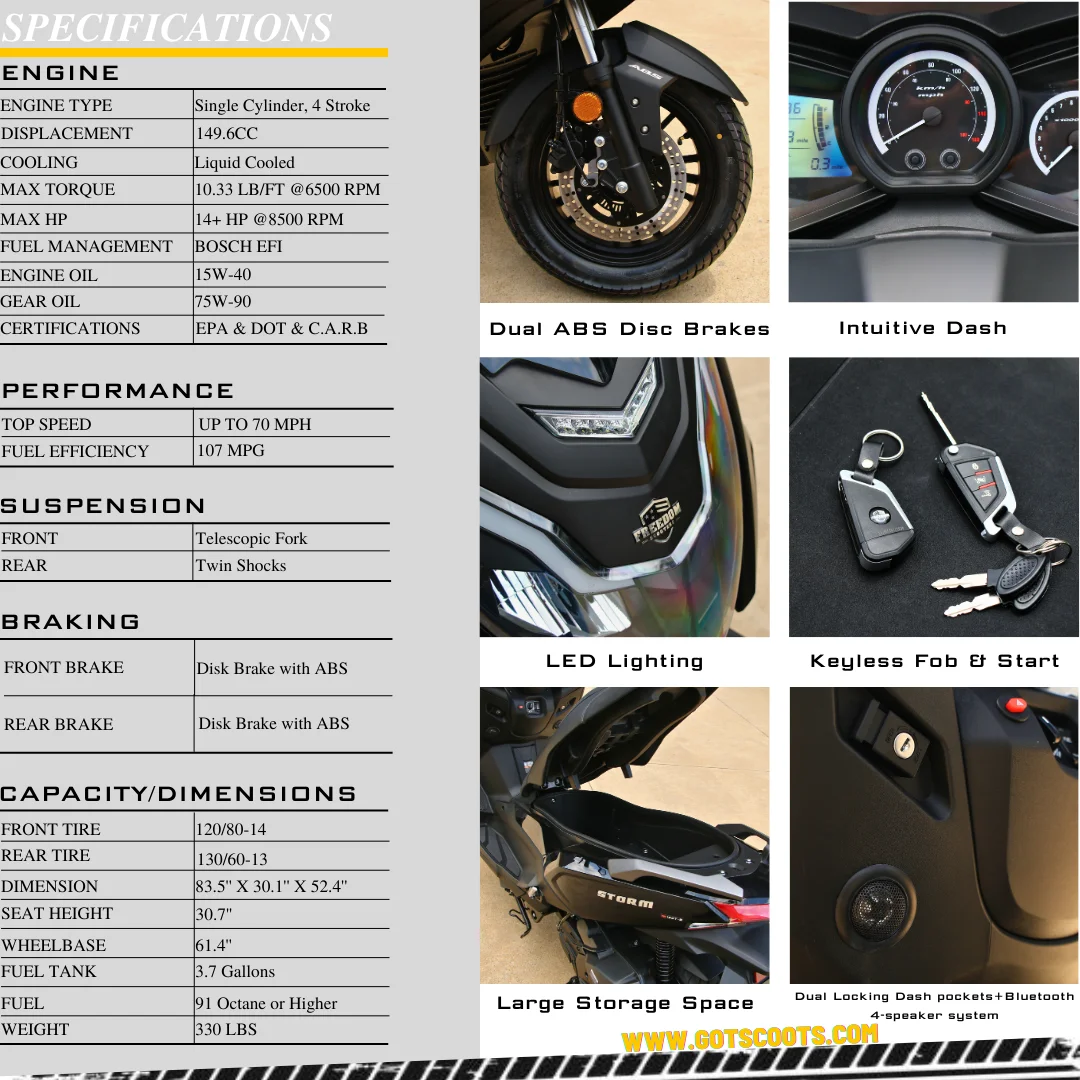 Storm 150XH Appearance
The way the scooter is designed with its sharp body muscle lines and domineering V-shaped headlights gives it a modern look. It also has a full LED lighting system which is great for driving in the evenings.
The scooter boasts a combination of digital and mechanical gauges which makes the data very intuitive to read. What sets the Storm 150XH apart from other scooters in its class is its maxi scooter style. This gives it a unique appearance and provides ample room for bigger riders, making it a more comfortable option for long commutes. In addition, the Storm 150XH also has a larger under-seat storage room which is great for carrying extra gear or groceries.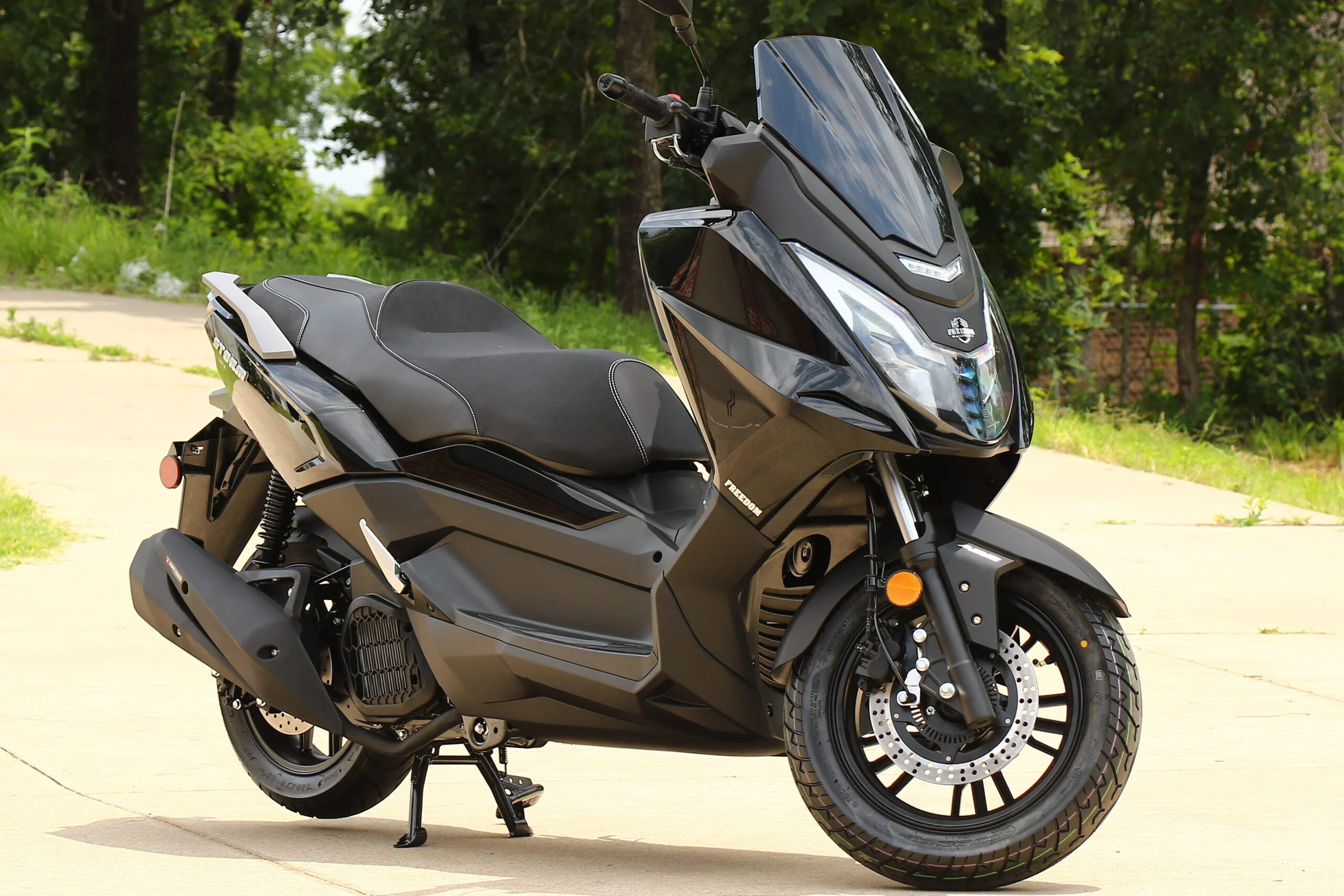 150XH And PCX 160 Comparison
It's understandable if you're curious about how this scooter stacks up against other 150cc class vehicles, such as the Honda PCX 160. You may even be wondering which scooter holds the title for the best in the US market.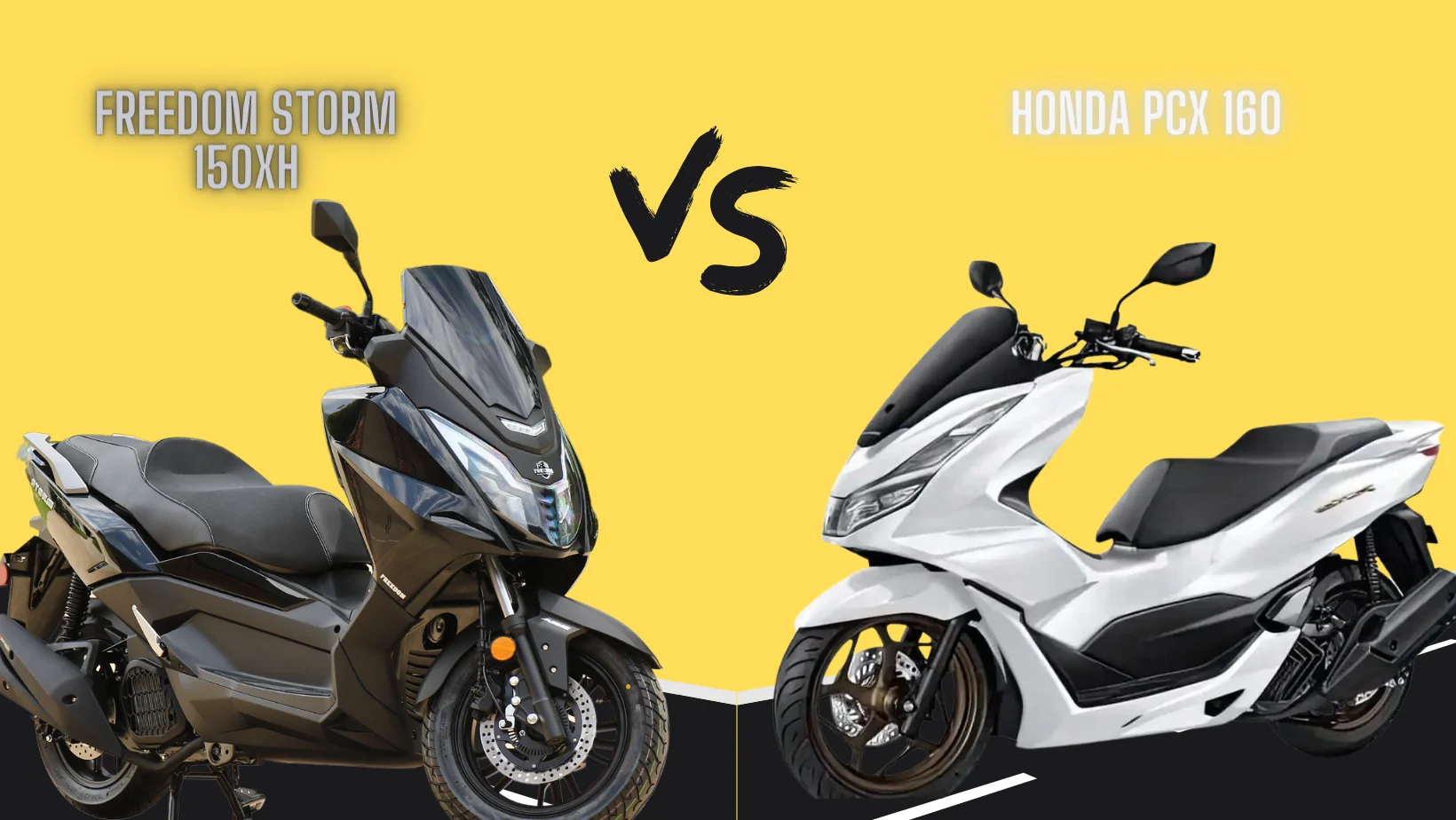 RIDING POSITIONS:
The Honda PCX has always been a popular choice in the U.S scooter market due to its reliability and performance. It is considered to be a mid-size chassis, but when compared to the Storm 150XH, which has a maxi chassis, the difference in length is quite noticeable.
If you're tall, you may need to sit really high up on the Honda PCX 160 due to its different chassis. The riding position on this scooter is quite low and it has a low windshield, leaving your entire chest and head exposed. However, the legroom is good and there is a single storage pocket that can easily hold your phone. When it comes to carrying a passenger on longer rides, the Honda PCX may not be the most comfortable option due to its shorter wheelbase. However, it is possible to have a passenger behind the driver for short distances. Just keep in mind that the passenger may not have a lot of space or comfort, but it could work for a quick ride.
Compared to the Honda PCX, the Storm 150XH offers a more comfortable riding position thanks to its longer wheelbase. The windshield on the Storm 150XH is also higher, providing better coverage of your chest, especially when wearing a helmet. This is definitely a plus for riders who value comfort and safety.
The Storm 150XH comes with a maxi chassis, which is a full-length chassis designed to ride two people. It's also nice to have the option of a backrest and storage rack for carrying larger items. With two large front storage pockets, the Storm 150XH offers more storage options than the Honda PCX, which only has one pocket.
DIFFERENT FEATURES:
The PCX160 has front-only ABS like many Honda scooters, but the Storm 150XH also comes with rear ABS. This is because the Storm 150XH is a Maxi scooter with a 150cc engine that is ideal for new riders. Both models have traction control and produce about 14 horsepower. While they both have a top speed of around 70 miles per hour, the rear ABS is a nice safety feature when riding on highways that have a speed limit of up to 65 miles per hour. Honda chose to exclude this expensive feature to cut costs, but it's definitely a nice addition for riders who value safety.
Both the Honda PCX and the Freedom Storm 150XH engines come with something called Silent Start, which is start-stop technology. With over 107 miles per gallon of fuel efficiency, both models are incredibly fuel-efficient. Start-stop technology is a fuel economy feature that turns off the engine when the vehicle comes to a stop, such as at a red light. To restart the engine, all you have to do is pull the throttle. While some consumers love this feature, others find it annoying. The 150XH comes with a feature on the handlebar that allows you to turn the start-stop feature on and off. However, with the Honda PCX, this option may not exist, and the feature is always on. This is definitely a nice feature of the Freedom that gives you more control over your riding experience.
The Freedom 150cc maxi scooter comes with a four-speaker Bluetooth audio system that sounds really good. The audio package is definitely a nice addition, and the volume is impressive. You can easily play your music from your phone or Spotify playlist, and it sounds great. Another feature that riders will appreciate is the USB-C phone fast charging. If you want to mount your phone and run Google Maps, for example, it can quickly deplete your phone's battery. However, the 150XH has a USB quick charging 3.0 feature that charges smartphones up to four times faster than the old-school USB A. This is definitely an advanced technology feature that you wouldn't typically find on a scooter or even a motorcycle today. It's a really nice addition for riders who like convenience and technology.
Both the Honda PCX and the Storm 150XH come with full LED lighting, which is definitely a nice feature. Having personally ridden the Storm 150XH at night, I can attest that the headlights are incredible for night riding. This is a great feature for riders who use their scooter to commute to work and may need to ride home late at night. The headlights on the Storm 150XH provide excellent visibility and make it easier to see the road ahead.
Neither the Honda PCX nor the Storm 150XH have adjustable rear suspension for ride height. This means that the scooters are fixed in height and cannot be adjusted. Both engines come with a side-mounted radiator, fuel injection, and liquid cooling. These modern technologies make these scooters some of the most advanced options on the market. They are both loaded with features, so it just boils down to what you're looking for in a scooter.
The Storm 150XH is a full-size scooter and is therefore a little bit heavier than the midsize chassis of the Honda PCX160. If you plan on riding with a passenger or are heavy and big yourself, I would recommend the Storm 150XH as it will be more comfortable. However, if you plan on riding solo, you might prefer the smaller size of the Honda PCX160. It ultimately depends on your specific needs and preferences. Both of these scooters are great options and are sure to sell well in the US.
The 2023 PCX 160 has an MSRP of $4,149, while the Storm 150XH can be purchased for $3,599 from some dealers (lowest). This makes a notable difference of $550. If you're not a big fan of Honda, I strongly recommend the Storm 150XH. Contact Gotscoots today for a better deal, and remember that we ship nationwide.
RIDING EXPERIENCE:
The question may arise in your mind – is a 150cc scooter enough for long rides? The answer for a normal 150cc scooter is no. Although it is possible, due to their smaller fuel tank and compact size, it's not an ideal choice. However, the Storm 150XH is a perfect choice for both short errands and long trips. In this section, I will be sharing some of my riding experiences with this scooter.
I must say that the 150XH is one of the best 150cc scooters I have ever ridden. Most 150cc scooters have smaller wheels and chassis, making them highly responsive. But what sets the 150XH apart is its agility despite having bigger wheels and chassis. It is very nimble and easy to drive. The scooter is ergonomically designed, providing ample legroom and allowing your arms to stretch fully.
The 150cc scooter is an ideal size for city use, which is its primary purpose – an around-town cruiser. What's impressive about this scooter is its fuel efficiency, which is 107 miles per gallon – pretty wild, right?
Thanks to its cutting-edge engine, this scooter delivers power smoothly and quickly. You can easily reach speeds of 50 miles per hour, and you can barely feel any vibrations from the engine. If you occasionally drive on the highway, you can go up to 70+ MPH, and the bigger chassis makes you feel more comfortable.
The front and rear disc/ABS features work perfectly. It is rare to find a 150cc scooter in the market with front and rear disc brakes, let alone front and rear ABS. With these safety features, you can ride it on any road or in any weather condition, and feel secure even on rainy days. Every time you try to stop, the response is fast and steady. I have tried some premium scooters like Vespa and Honda, but I feel that the 150XH is a more practical solution for most people.
Conclusion
In my opinion, the Freedom Storm 150XH is the best choice for many riders. Unlike retro-style scooters, this scooter has a more modern design with practical features. Whether you are a new rider or an experienced one, you can enjoy this scooter from different aspects.